By Doctors Sabine Bellaiche and Stephane Auroy
To achieve a dynamic, relaxed and masculine look, more and more men are using a magic needle and hyaluronic acid developed by Vivacy Laboratories, France's go-to laboratory for injectables.
"The face is a picture of the mind," said Cicero, and modern day speakers have understood this well. By stepping into a dermatology or cosmetic medicine practice, more and more of them are giving their features a quick, painless and undetectable boost. Formerly seen as a woman's prerogative, aesthetic treatments have been democratised to the point of conquering the male population. Injections containing hyaluronic acid or botulinum toxin, lasers, peels, mesolift, radiofrequency… These non-invasive acts – meaning no surgical intervention is required – are appealing because of their natural results and their lack of convalescence. "A treatment with hyaluronic acid takes on average 45 minutes and the patient can continue going about their day, returning to work immediately after," says Dr. Sabine Bellaiche, an aesthetic doctor who now has "30% of men among her patients with a demand that increases each year."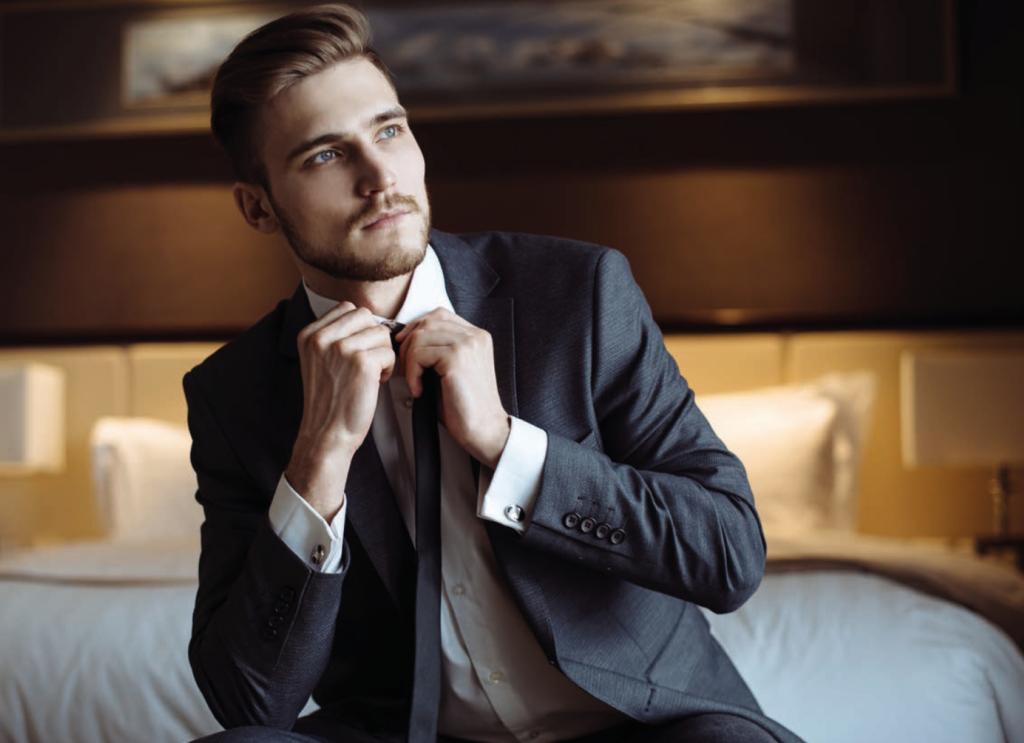 "It has been around ten years now since men have become more comfortable with aesthetics," decrypts the dermatologist Stéphane Auroy. "Before that, there was something a little shameful, hidden, taboo. From now on, 'aging well' is something that we talk more and more about. Men are better informed about the solutions that exist," says the Parisian doctor. Why do they take the leap? "There is a societal requirement," says Dr. Auroy, for whom "the professional environment is becoming harder and more competitive. Despite the passing time, men want to continue to exhibit a dynamic image. Sometimes it can be because they have a younger companion – who does it all herself! – and they don't want the age difference to be too obvious, or they are returning to the dating game which is, like the job market, very unstable and fluctuating." Dr. Bellaiche confirms the same observations, noting a prevalence of "professional optics". "I often hear: 'I am told that I look tired when I am not. I have the impression that it is obstructing my promotion opportunities'. To look less tired is the main request, so my role is then to direct them to the appropriate treatment which will relax and remasculinise their face. Guide them to the most elegant solution and give them back their assets," she explains.
Filling furrows, giving volume to cheekbones, redefining the face oval, yes! But the important thing is that it does not show.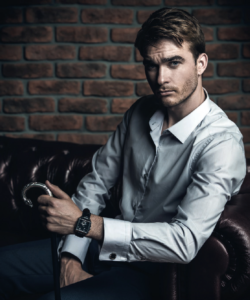 The French way, unlike the more ostentatious tastes of the US or overseas, advocates the natural look. "The best compliment I can get is when a patient comes back to me and says: 'Doctor, nobody said anything to me'," Sabine Bellaiche laughs. "Men do not want to be transformed," says Stéphane Auroy. "They want to look like themselves, but better! So we tend to give them the face they had ten, fifteen or twenty years ago. The model should be built with rigor, the face should be treated globally and the frequency should not be exceeded in the long term. As a doctor, you have to know how to say no!" If you decide to go ahead, the most important thing is (besides the choice of a trustworthy practitioner) to opt for a high quality product. "For hyaluronic acid injections, I choose Laboratoires VIVACY. They have developed a product that is particularly well adapted to men, STYLAGE® XXL, because it is very restructuring for the face," says Dr. Bellaiche.
Dr. Auroy shows the same enthusiasm and is "very loyal to the STYLAGE® line, having tested all the best products on the market." "I have never found better in terms of ease of injection, durability for the lips, large volumisers or lighter products. The range is complete and perfect", he says. However, one question remains, but not the least: are injections painful? "The doctor uses an anaesthetic cream and the products themselves contain a local anaesthetic, Lidocaine. Add that to a very fi ne needle: the act is really quite comfortable," reassures the dermatologist, Stéphane Auroy. The eff ect of a hyaluronic acid injection lasts between 9 and 18 months depending on the treated area (nasolabial folds, fi ne lines, cheek bones…) and the density of the product used. Dr. Bellaiche advises to go back over your handiwork several times for an optimal natural look: "to have wrinkles is normal and virile. You have to positively use wrinkles to be rejuvenated, not be without age! I am glad that doctors are now interested in men and their particularities, because they too have the right to well-being and harmony. It is important to love yourself, it is the best way to love others!"
---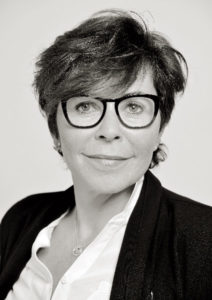 Doctor Sabine Bellaiche
Aesthetic Medicine Practice in Paris. Took part in a in documentary dedicated to the treatment of facial lipoarthropy in HIV patients with STYLAGE XXL hyaluronic acid on France 5 TV Channel, Spontini Clinic, Paris. Physician's trainer and expert speaker for Laboratoires VIVACY, France. Since the foundation of Laboratories Vivacy, I participated in product development before fi nal release on the market. I was trained in the use of cannulae and worked as a physician trainer at workshops and conferences such as: Mastery of different injection techniques, Correction of any types of wrinkles and skin blemishes, Hand rejuvenation techniques with STYLAGE M and L.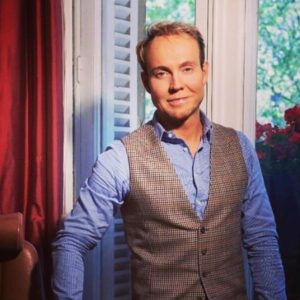 Doctor Stephane Auroy
Specialist in dermatology and venereology. Master of Advanced Studies in skin biology and pharmacology. Former consultant for the Paris Hospitals, specialising in aesthetic dermatology for the last 20 years. Tutor at the Paris V faculty, teaching the university diploma in "Evaluation and control of injection and volume-enhancing techniques". Runs training courses in injection techniques and investigates clinical study protocols.