By the Dr Nimrod Friedman
Today, aesthetic medicine is no longer a privilege reserved for women. More and more men of all ages and from all lifestyles are discovering this universe and the benefits of medical advances in aesthetics. From the young metrosexual to the businessman in his forties, men are becoming more and more concerned about their physical appearance and the image they reflect. Interview with Doctor Nimrod Friedman.
The effects of aging are quite similar in women and men. Nevertheless, male expectations will differ, resulting in appropriate aesthetic care. Men seek fast, painless and effective treatment from the very first day and for a long time.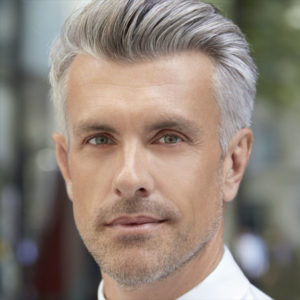 VERA TUAL: When male patients come to your clinic, what kind of treatment are they looking for?
DR. NIMROD FRIEDMAN: When they come in, most of them just want to improve their appearance. Usually they do not know clearly what kind of treatment they need. To advise them in the best way possible, it is essential to understand the basic differences in men versus women. During my lectures, I always put emphasis on the importance of shapes: women usually have a more rounded appearance rather than men who have square features, sharp corners and straight angles. This is a crucial point to keep in mind before treating a male patient, if you want to obtain harmonious and natural-relooking results.
When we start to analyze closer a male face, we see that male eyebrows are usually more straight and longer. In general, they are lower when compared to that of women. Many doctors are still using a lot of botulinum toxins, not only dermal fillers, so they need to keep in mind that they cannot treat men the same way as they treat women. It is important to respect some basic rules in order to avoid mistakes. For instance, creating a "mephisto look" with high- arched eyebrows, which upturn sharply and unnaturally, will look ridiculous in men.
When we talk about full-face rejuvenation, we need to understand that it is totally fine for men to have some wrinkles. We do not want a male face to be completely smoothed out. Otherwise, it will not look natural. I do not only mean facial expressions, I am also talking about static wrinkles, which are visible on the skin's surface at rest. When we are treating a man, we should not aim at having a baby-face look in order not to feminize the male features.
Our main objective is to define the contours for a more masculine look instead of removing completely all the lines and wrinkles. It is extremely important.
When we are treating the temple area, we do not want it to be too hollow nor convex. If we want to treat the nose, it should be straight and it is fine if it is slightly longer or wider. One of the aesthetic parameters to take into consideration when treating a face is the angle between the nose and the upper lip. The tip of the nose should be lower than that of women. There is a preference of a 100-120° nasolabial angle in women and approximately 90-95° in men. We can sculpture the nose using dermal fillers.
When treating the cheeks, be careful not to over-correct them and try to keep them chiseled-looking to avoid facial feminization. Very projected cheekbones are considered a feminine sign, so we should not put too much emphasis on this area in men. The cheekbones should also be rounder in females in contrast to that of male patients.
Regarding the lips, men have wider mouths with slight thinner lips especially the upper lip. If we need to correct their lips, we do not want them to look as plump as the female ones.
We often correct nasolabial folds in women. However, in men, it is a normal facial feature and sometimes it is even good to keep it the way it is. It is a masculine presentation. We should also keep in mind that the chin is a very important element of the male face. It has to be very strong and square to give the face a more angular shape. A sharper mandible projection is more acceptable in males than females. Our goal here is to have a well-defined angle.
To conclude, the understanding of the concept of round versus square face is extremely important when treating a man. In women, we often try to fight skin sagging by adding volume to the cheeks. We cannot do it in men. If we are trying to fight the sagging just with dermal fillers, the result might not look nice in men. In this case, we need to use alternative aesthetic treatment in order to avoid a "heavy" over-corrected or feminine face.
How many male patients do you have now in your clinic? Are you seeing growth in demand from male patients?
N. F.: I have been seeing a huge growing demand over the past years. However, the majority are still women. In comparison to what we had five years ago, we have now three to four times more male patients. However, the approach is different. In my clinic men often start with surgery whereas women are looking for non-invasive treatments at first. Once they have been through a surgery, they are more likely to have other aesthetic treatments, such as dermal fillers. They feel more con dent. It is an interesting phenomenon. Men do not have the patience to do injections on a regular basis. When something bothers them, they want a quick and effective solution that will resolve all their problems for many years. This is why they often start with surgery.
Do you use any particular technique when you inject a man? What are your tips and tricks?
N. F.: If we are talking about injection techniques, we need to work with high-viscosity hyaluronic acid gels. Usually in women, I use a lot STYLAGE® XL by VIVACY Laboratories. However, I prefer to use STYLAGE® XXL in men for two reasons: first, because we want a better definition, secondly and most importantly the male skin is much thicker, so we need a more viscous gel in order to contour the face. Regarding the injection technique, if we want to remodel the chin and the cheekbones, I will inject STYLAGE® XXL with a needle and for the other areas, like the cheeks and the jawline I will do it with a cannula.
My general rule is that I do not believe infixed injection points. Many lectures now are showing that you can draw a line between two predetermined points than cross it with another one and then you will get this magic point and everything will be fine, if you inject there. I believe that we all are different one from another. Every face is unique and every face needs its unique injecting point or area to improve it. In my opinion, there is no magic solution. A careful pre-treatment diagnosis of the face and the physician's artistic view are crucial. If you do not have the right "eye" for that, maybe you are in the wrong business.
---
Dr. Nimrod Friedman 
Dr. Nimrod Friedman is board certified plastic surgeon and a member of IPRAS, ISPS & ISAPS. His private clinic is based in Tel Aviv, Israel and his main activities are Aesthetic Breast Surgery, Facial Rejuvenation and Body Contouring using different surgical techniques, as well as minimally invasive and non-invasive techniques. Dr. Friedman is well appraised for the natural results achieved in both male and female patients. Dr. Nimrod Friedman Graduated medical school with honors and distinction and receive several awards for outstanding academic achievements. Dr. Nimrod Friedman is a consultant and KOL for several international companies and a frequent lecturer at meetings and workshops around the world.