By Doctor Veronique Emmenegger
The reasons for hair loss differ from one man to another. From vitamin injections to natural micrografting, Clinic Lémanic offers a wide range of innovative treatments tailored to men's individual needs at its Hair Expert Centre – the only one of its kind in Switzerland.
In today's world, hair can be a major source of anxiety – not just for stars who need to look their best, but for any man playing an active part in society. Issues such as hair loss, weak hair growth and thinning hair can affect his sense of wellbeing and make him feel inhibited in social situations. Using a wide range of therapies and approaches allows us to select the ideal treatment for each patient's individual needs.
Encouraging growth and increasing volume
Moderate hair loss or thinning can be treated pharmaceutically. This approach can be effective, but patients have to keep taking the medicine for the rest of their lives and it can have undesirable side-effects, so many men seek alternatives.
One option is to inject biologically active compounds, usually in liquid form, directly into the scalp. This stimulates growth far more effectively than ingestion, in which biotics have to pass through the gut. We also achieve good results with targeted oxygenation, platelet-rich plasma injections and photobiomodulation.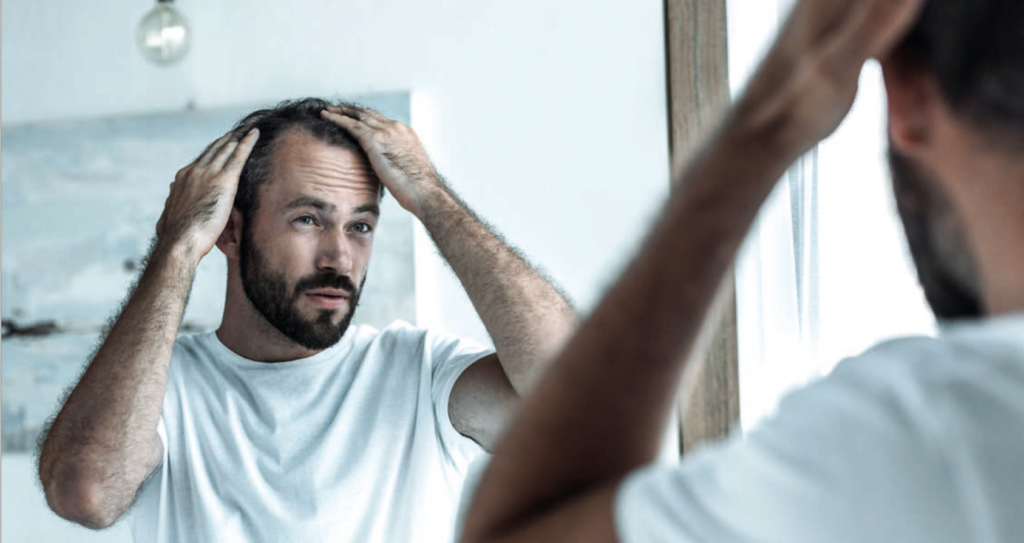 Severe or embarrassing hair loss
If hair loss has advanced beyond a certain degree, other treatments are more promising: REG 21 is a new approach involving clinical regeneration. It uses autologous cell injections to stimulate hair regrowth and significantly slow hair loss. It is safe and effective, with no side-effects, and there is no need for a recovery period.
Another technique that represents a major advance is Micro Autologous Hair Implants (MICA®), a highly successful technique developed by a Clinic Lémanic doctor with 15 years of experience in hair transplantation. Under local anaesthetic, follicles are individually extracted from the back and the sides of the patient's head, then delicately reimplanted in the area where hair loss has occurred. We achieve excellent results using this technique: the new growth is indistinguishable from natural hair. Unlike older techniques still used by some establishments, such as the strip procedure, MICA® leaves no visible scars. We also use this technique to thicken eyebrows and remedy uneven beard growth.
In cases of very advanced hair loss, the best option may be a Biocompatible Hair Implant (BHI®). This is a painless, non-surgical procedure in which biocompatible fibres are individually implanted to achieve the desired hair density.
Experience and savoir-faire
With 20 years of experience and the collective expertise of its team of doctors, Clinic Lémanic has unrivalled savoir- faire in treating hair loss. Offering a range of therapies and approaches enables us to select the ideal treatment for each man's individual needs. And our bespoke service doesn't end there as we adjust to the busy schedules of our clientele. Business men, in particular, will appreciate having their treatment carried out on a Friday evening or over the weekend.
---
Doctor Veronique Emmenegger
Doctor of Medicine. Anti-aging Specialist, Double FMH graduate in Dermatology & Venereology, Allergology and Clinical Immunology. Co-founder and Medical Director of Clinic Lémanic in Lausanne for 20 years. Winner of multiple international awards including the prestigious IIPP "Merit for the Development of Technologies in Medicine and Aesthetic" received at UNESCO, Paris.
cliniclemanic.ch l T. : +41 21 321 20 85