By Doctor Herve Brunet
Any man who takes care of his skin will apply a cosmetic product every day. But, what type of cosmetic and which molecules should you go for?
A man's skin has certain specific features. It is thicker than a woman's and is impregnated with testosterone, which increases the collagen density as well as the number and size of the sebaceous glands, meaning they produce more sebum. A man's skin is oilier and their pores are more dilated. Because of this, they should opt for lightweight creams or serums.
Since the skin is thicker, it can tolerate cosmetics with higher concentrations of actives. The best actives are vitamin C, hyaluronic acid, fruit acids (AHAs) and retinol.
VITAMIN C, also known as l-ascorbic acid, should be used in its purest form, and is one of the major actives in cosmetics. It can be irritant in high doses, which is why the maximum percentage of pure vitamin C is 15%, even in the strongest formulations.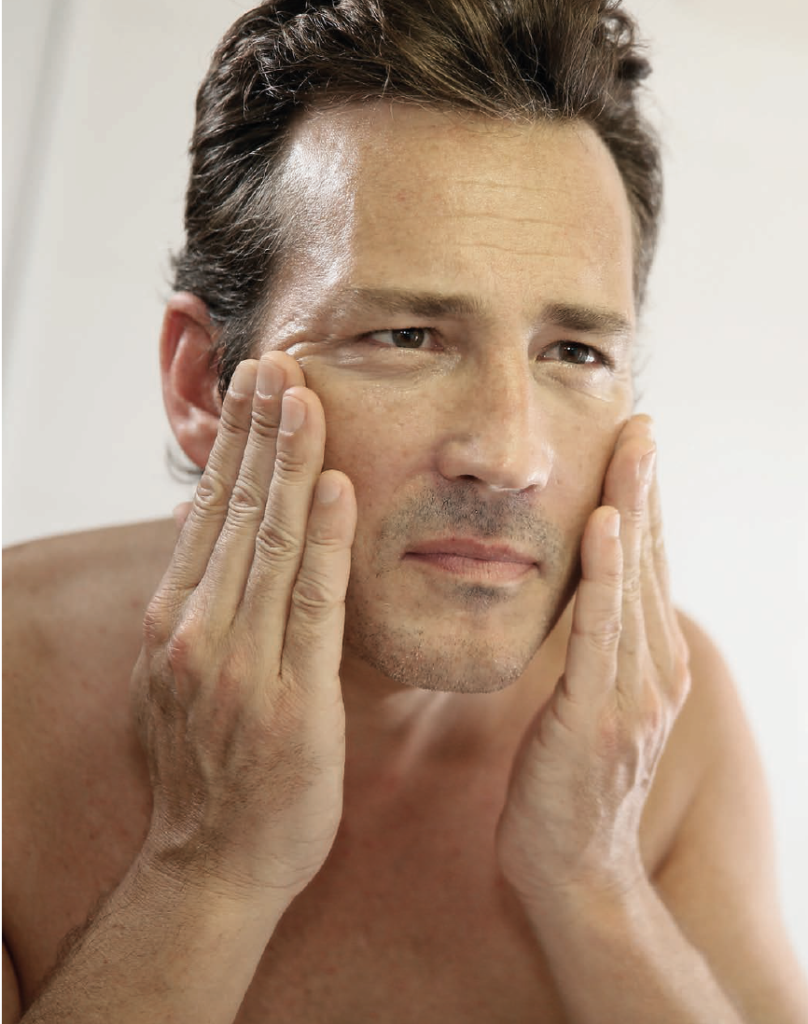 It is a powerful antioxidant. It acts by inhibiting free radicals, whose formation is the main cause of skin aging. In addition to its antioxidant qualities, it stimulates the collagen and elastin fibres and increases the thickness of the dermal papillae. It helps prevent marks and reduces their intensity by regulating melanin.
Finally, it acts upon the micro-circulation to illuminate the complexion and reduce fine lines.
Which brands to go for
Skinceuticals off er 3 types of vitamin C serum:
Serum 10 for sensitive skin, with 10% vitamin C
Phloretin CF serum with 15% vitamin C in an alcoholised base for oily skin, which is perfect for men
C E Ferulic Acid with 15% vitamin C for dry or dehydrated skin
You could also go for Pure Vitamin C10 from La Roche Posay, Flavo-C or Flavo-C Forte from Auriga (which contain 8% and 15% of vitamin C, respectively), or Tri Vita C30 from Dermaceutic. There are also vitamin C serums from Kielhs, Clinique and Novexpert.
A vitamin C serum should be applied in the morning onto clean skin and used all year round, even in the summer when your skin is exposed to the sun.
Once you have applied your serum, you need a lightweight cream or hydrating serum for oily skin (80% of men) or a richer cream for other skin types or for use in the winter, when the skin dries out more.
HYALURONIC ACID is well-known for its hydrating and plumping properties. In a serum, we would go for HYALU B5 serum from La Roche Posay or HA Intensifier from Skinceuticals. For those who prefer a cream, Hyaluceutic from Dermaceutic has a lightweight texture that contains hyaluronic acid and soothing Aloe Vera, making it ideal for after shaving. Eucerin's Hyaluron-Filler Day for normal skin is easy to get your hands on.
A SUNSCREEN should be applied all year round, or instead of a face cream or hydrating serum. If you spend more than 15 minutes outdoors per day, you need to apply factor 30 sun protection in the winter and factor 50+ from spring onwards. The amount of UVA rays present in the atmosphere is constant all year round; they pass through clouds and windows and are co-responsible for skin aging and carcinogenesis. Sunscreens are available from Avène, La Roche Posay, Bioderma and ISDIN. Men should go for a fluid texture, bearing in mind that the more liquid a sunscreen is, the less protective it is, so you need to apply it more regularly. The cosmetics to apply at night are either retinol-based or fruit acid-based (AHA). They are exfoliant and should not be applied in the summer months. Men with oily skin should opt for a cream or serum with AHAs. Eneomey is a French brand that offers a wide range of AHAs. They are available in gel or cream format and in a range of concentrations. They can be used to prepare the skin for a peel.
Retinol is one of the oldest anti-aging actives, whose action cannot be refuted.
Skinceuticals offer the highest concentration available in France, with 0.03 retinol to be applied every other evening at the beginning.
Vichy offer a less-concentrated retinol cream which is more suitable for sensitive skin. The best approach is to apply it in rotation, in three-month periods.
Cosmetics, botulinum toxin and fillers are the winning trio for comprehensive aesthetic care. This year, Allergan have launched a new filler: a hyaluronic acid that is formulated for treating the oval of the face to give men a more square and powerful jawline.
---
Doctor Hervé Brunet
Doctor Brunet, a dermatologist and former Expert in infectious dermatology, specialised in aesthetic dermatology 15 years ago: lasers and injections. A recognised opinion leader, he is helping to develop techniques that treat the face as a whole and passes on his expertise as an expert-tutor.